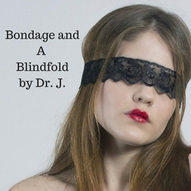 Ella

His favorite sex scene in the movie had played and J.B, turned to me, agitated.
"I just want to tie you up, blindfold you, and tease you until you can't stand it. Is that too much to ask?"
The muscle in his jaw popped. He stood as the sexual need surged through his body.
"No, baby." I crossed my legs and pinched my desire together. "Go look under the bed."
I'm pretty sure he expected my usual, "no," but my request didn't fit the moment. J.B.'s pained expression touched me. I had yet to agree to bondage and a blindfold, but I knew it was important to him.
"J.B., I think you'll like it. Just look."
I had wondered how I would share my secret. The timing was perfect. We had been lying together on the sofa watching J.B.'s favorite movie. I throbbed between my legs, thinking about my surprise. I hoped J.B would humor me.
He looked defeated when he walked over to the end of the bed. He pulled up the dust ruffle and peered underneath. I hoped he would be pleased with my initiative. I knew he wanted this.
When I discovered his computer search, his wish was clear and in vivid colors. He had looked at blue handcuffs but had marked the page with pink ones that included a spreader bar and a blindfold. I'd been reluctant. The idea of giving up control spooked me. I wanted to allow J.B. to be in charge of my pleasure. I wanted to give him that gift. Would my gesture make the impression I intended?
He pulled the box out and gazed back at me.
I didn't recognize that look. J.B.'s entire body had filled with lust and spoke to all my places south. There was joy etched on his face, and it seared my heart.
"Get on the bed, Ella."
His voice sounded so different, earthy and raw. His fingers tightened on the box.
I rose hurriedly, attempting to steady my breathing. The excitement, curiosity, and my arousal pushed me forward.
Standing before him, I bit my lip as I stared into his beautiful face. When I moved toward the bed, he grabbed my wrist.
"Strip."
That one word set the stage. J.B. wasn't asking. It was a command. My stomach fluttered, my heart thudded, and my hands shook. My panties became soaked. That in-charge voice told me I was going into the unknown.
"I'm not sure who will enjoy this more, Ella."
The temperature in the room rose. As I undressed, J.B. opened the box and retrieved the contents. My taut nipples accompanied the full ache throughout my pelvis. Maybe, unconsciously, I had wanted this.
I sat on the edge of the bed and J.B. squatted at my knees. His steady hands rested on my thighs, brushing his thumbs back and forth on my skin. He was priming me for what was to come. I don't think I have ever craved him before, but this was something else.
"Thank you, Ella. Tonight is about me giving you pleasure. It's what I've wanted. And when you orgasm—"
That muscle in his face flexed, again.
"Yes, J.B.?"
"That orgasm will be mine."
I nodded.
"I'm going to cuff your hands and then your feet. Concentrate on the sensations you feel. Okay?"
"Yes."
With silicone cuffs attached to my wrists and clipped them together, I was his. J.B. inserted his finger between my skin and the cuff, rubbing my skin. I didn't expect that I would be hyper-sensitive there, but I was. He lifted my hands and kissed each palm. His warm breath sent signals to my body, like a private conversation. Every part of me listened. Tonight, I wanted to make his fantasy come true.
"All good?"
"Good."
"Crawl up to the headboard, lie on your back. Do it slowly, Ella, so that I can enjoy your lovely ass and dripping pussy."
My breath caught in my throat as his gravelly voice assailed my senses. I stood up and put my bound palms on the sheet. As I placed my knee on the bed, I wiggled my butt. The groan from J.B. sealed the deal. His hands landed on my ass, and he kneaded my cheeks while I crawled up the bed. His touch drew a new desire from me, and left a suggestion of his intended pleasure.
I rolled over and settled onto the bed.
"Wrap both hands around one of the headboard spindles."
I looked over my head and grabbed the metal rod with both hands. "Is this how you want me, J.B.?"
He gazed over my body. "Yes. Beautiful."
J.B. pulled his shirt over his head and pushed his pants down his legs. Male perfection. While I enjoyed his naked form, he traced a line with his finger from my ankle, up over my hipbone, between the hollow of my breasts and finally to my lips. Goosebumps followed his finger's trail like sunflowers follow the sun.
"Suck my thumb."
After one taste, I twirled my tongue around his finger, and he took charge. He explored my tongue, gums, and lips, awakening sensations, carnal cravings, I didn't know I had. J.B. was good at this.
"I'm going to fasten the spreader and then the blindfold."
He worked quickly, and when J.B. covered my eyes, I relished my last view. His hand was firmly attached to his hard cock, giving himself a slow stroke.
Urgent lips kissed mine. As our tongues touched, J.B. sucked mine into his mouth. This was a dance we had never danced before.
When he broke the kiss, I was lying in a pool of need. The air particles stirred and I swear I could feel each one landing on my skin inciting me to feel more.
In the darkness, my body throbbed as I anticipated J.B.'s next touch. I could feel his finger caressing the sheet as his hand rested by my ankle.
Touch me, again. Kiss me, again.
"Waiting is an exceptional talent, Ella. I should know."
He leaned over me. I inhaled the sexually charged scent of him. J.B. dragged his cock and balls over my shin and thigh, and I almost levitated off the bed. I was mesmerized by the sensations he induced.
J.B. chuckled and kissed my cheek. And then he left the room.
*Writer's Note: This story was the result of a lovely exchange with a friend. Enjoy, J.B. I do believe there is More to come.Go see what J.B. gave Ella in Dripping.