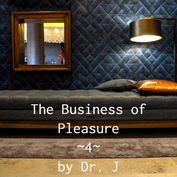 Read from the beginning
The Business of Pleasure
Georgianna lifted her face off Jarvis's stomach and blew out a long breath. Things were moving fast, and she wanted to slow it down. First, Jarvis, a porn director, had expertly fingered her to orgasm at the bar, and second, her curious Samuel had gone down on Jarvis in the hotel suite.
I won't be rushed.
She replayed a lusty loop of sexual images, and they fogged her mind.
Both men stared at her waiting for a response about their two-man invitation. She stood and walked around the sofa feeling like a lioness circling her prey.
"Am I clear there was no videotape?"
"Scouts honor, babe. We were on the up and up."
"You were until you read my story and hooked up with Jarvis."
"Woah, I didn't think you'd be mad. I thought you would be pleased with my effort."
She pondered his words. Her husband was a sight on his knees beside a half-naked and now limp-dicked Jarvis.
"You are right. This encounter was out of your comfort zone, Samuel." The contrast was stark as she admired the ease with which Jarvis displayed himself. "But what's in it for you Jarvis?"
"I like couples. They charge me up. New people. New activities."
Hmmm. New activities?
Why not try something new? I write naughtily, can I behave that way?
"Gentleman, I appreciate your efforts here, and I thoroughly enjoyed our play. As to your invitation, I'd like to do that next week. " She tilted her head and eyed them both. A new scene played in her mind's eye, and she added to the mix, today's sexy scents and tastes.
"Jarvis, when she gets that look, anything goes. Baby, if you are running the show, you know I'm in."
"I am at your disposal for anything. Tell me the time and place, and I'll be there," said Jarvis.
"Next Saturday, 7 pm. Back here. I'll book the room.
****
Georgianna went to her favorite sex toy shop Saturday afternoon. She trusted her intuition to guide her. With Jarvis being adventurous and Samuel a little sheepish for reading her material, Georgianna wanted a fantasy to make things hot. Could she do this? Samuel had watched Jarvis toy with her with his fingers, so maybe Samuel needed to see her do that with Jarvis.
It must have been the energy in the store, but ideas flowed non-stop. Georgianna settled on a vibrating dildo, condoms, and lots of lube.
During the week she had ordered some red leather for the event, so she was ready. She would embody this new persona as best she could. Georgianna always wanted control; that's what her Ex had taken away from her.
Georgianna arrived at the hotel before the men. After she had prepared the space, she changed into the red leather bustier with cutaways for each breast and a garter belt with black stockings. She slid her hands over her soft breasts, the sleek leather, and the silk stockings. The textures excited her. This outfit which highlighted her naked genitals and full breasts would surprise Samuel. The idea aroused her.
At 7 pm the door opened, and the two men entered, chatting with one another. As they walked into the suite, and Samuel saw her, he froze. Jarvis nodded his appreciation.
"Clothes off, Gentlemen. Put them on the chair over there."
Jarvis moved quickly; Samuel stood still gawking.
"That was a directive, Samuel. Don't make Madame G. unhappy."
A thrill ran through her as she uttered those words. Never had she expected power to feel this good.
"Samuel, say, yes, Madame G."
Samuel stuttered the words while gazing at her and he began removing his clothes. Jarvis was ahead of him.
"Madame G, how may I serve you tonight?"
"Jarvis, please go over to the bed and kneel on all fours."
"Yes, Madame."
"Samuel, you will follow me to the bedroom, understand? That won't be a problem, will it? You two told me you would take my directions or be my slaves."
"Yes, Madam." She smirked to herself knowing that Samuel was totally out of his element. Glancing over her shoulder, Georgianna saw his hesitant facial expression. His body sent a different message. She beamed at how rock hard he was.
Jarvis had knelt on the edge of the bed, so his sculpted ass was in view when they walked in. For a split second, Georgianna wondered if she could do this, but the feeling of exhilaration and arousal dismissed her doubt.
"Samuel, look how Jarvis has displayed himself so perfectly for me. Go over and stroke his cock and tell me whose is harder."
Samuel paused and took in the view.
"Wait. Rub your cock between Jarvis's ass cheeks first." Samuel turned to her as if he misunderstood the instructions. "It's what I want, Samuel. Please me. I have lube."
Madame G picked up the tube and squirted some in her hand and then applied it to Samuel's erection taking care to make him feel good. Samuel sucked in whistling air. He moved to Jarvis and sandwiched his erection in his crack. He rocked up and down with his body's weight.
"Good prep, Samuel. Now move over so you can reach his cock." While Samuel compared cock hardness, Georgianna danced her fingers over Jarvis's firm body. She bent and rubbed her erect nipples across his ass.
New activity, new sensations.
"How are you doing, Jarvis?"
"Very well, Madame."
"Excellent. Samuel, is his cock hard as yours?"
"Yes, Madame."
"Jarvis, I want you flat on your back. Samuel you will kneel beside Jarvis, facing me. I want you to see everything."
As they got situated, Georgianna retrieved the condoms and vibrator. She opened the condom packet, took the condom out and rolled it down the vibrator. When Samuel turned around, she held it like a conquering tool of an Amazon woman.
"Georgianna, what are you doing with that thing?"
"That's for later." She placed it on the bed and went about covering her fingers in lube.
"Jarvis was inside of me; I thought I'd return the favor, and you'd get a front row seat."
"Yes, Madame. I would love to please you in that way," said Jarvis. And just like in the bar, Samuel clinched his jaw. Raw arousal.
"We're going to drive him crazy Samuel. You do a hand job while I work magic to his prostate." Georgianna massaged Jarvis's ass as she slipped her fingers between his cheeks and began to stroke his skin. Breathy, wet gasps from Jarvis filled the room as Samuel started fisting Jarvis's cock. Her sizzling reaction surprised her as these men obeyed her wishes. She wanted more.
Change of plan.
"Jarvis, take your cock. Samuel, come behind me. Use your lips."
Georgianna bent over bracing herself on the bed with one hand. Samuel's large rough hands caressed her ass as his tongue teased her slippery folds. Samuel's mouth and tongue never disappointed and with this angle, his bobbing was perfect. As Samuel pushed his tongue into her, she eased her fingers into Jarvis. He stroked his cock faster.
"Yes, Madame. Thank you. That's the spot."
Samuel's fingers dug into Georgianna's skin, holding her in place as he attended her lips and clit. Every time Samuel pushed into her; she pushed into Jarvis and Jarvis keep the beat with his cock. They created a three-person rhythm. Samuel hummed across her skin like a human vibrator. The sexual aroma hung in the air, and Georgianna licked her lips. Jarvis's jerky motions signaled his orgasm. Georgianna was lightheaded as her orgasm approached.
"Oh, yes," said Georgianna. Samuel's tongue ignited her. As she teetered on the edge of her explosion, her fingers slipped out of Jarvis, and she anchored both her hands beside his hips. She leaned forward, surrendering to the men's movements and let the delightful sensations engulf her. Samuel remained relentless; he continued to lick, nibble, and suck.
As Samuel consumed Georgianna, Jarvis matched the intensity when he sat up. He wrapped his arms around her and devoured her lips. Enveloped in warm, wet suction, from top to bottom, Georgianna soared again.
As her orgasm subsided, Jarvis pulled her to the bed.
Samuel smacked her ass and chuckled. "Now, let's talk about that vibrator. Exactly what did you have in mind?"
Writing for
Wicked Wednesday.
Pop on over and check out the wickedness.
Writing for
Masturbation Monday
. Who else participated? Go see.