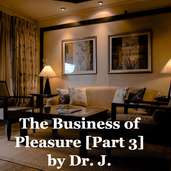 Read From the Beginning
The Business of Pleasure
"Jarvis, thank you for joining us. My wife is something, isn't she?"
Georgianna rose from her knees, licked her lips still tasting Samuel, and turned toward Jarvis. "That she is, Samuel."
Eyeing Jarvis from around Georgianna's body, Samuel pulled up his trousers.
"I must say, this is a fun party to be invited to. Not sure of the social protocol after these sexual events."
"I'll get some drinks," said Georgianna. "Please, make yourselves comfortable."
When Georgianna came back with a tray of drinks, Jarvis was sitting on the couch. Samuel was beside him, bent over unzipping Jarvis's pants.
"Well, that's comfortable."
"You told me it was about taking control."
Georgianna sat the tray on the coffee table and picked up a drink.
"Georgianna, I must come clean. There is more to this get together than you know. Samuel put an ad on a sex site about making a fantasy reality. I contacted him, and he shared a partial of your story."
"What?"
"Did you think I would go for a stranger fingering you, babe?" She looked from Jarvis to Samuel. "It had to be somebody I vetted, so Jarvis and I met. I don't do random." Clutching her glass, Georgianna sat beside Jarvis, surprised.
"You've been reading my story all along?" Samuel nodded yes. "So it was the desire in the bar?""Yes. Heat for your responses and what might happen later. Your story allowed me to explore something I wanted to do with you, share a man. He had you, and now we can have him."
Her skinned burned from the scrutiny of each man as she searched Samuel's eyes. He smiled at her. How could she be mad and turned on at the same time?
"This can be our time. As you can see Jarvis, already voted, he is here."
"You bet I am. After that bar scene, I want more."
"Jarvis did get you worked up baby, didn't he?"
She lifted her glass and took a big gulp not wanting to wash Samuel's taste away. "Yes, he did."
Samuel had caught Georgianna off guard. Her nervous energy was channeled into her grip on the glass.
"We've done part one. I can get us started on part two if you want."
Georgianna was in disbelief. Her husband, who never took the lead, had taken the lead. And that was what she had always wanted.
"Are you sure?"
"I am."
"Jarvis, you know it's about a couple sharing a mutual blow job."
"That's what I read."
The scene played out in her head, and she grinned at Samuel and gave a slight nod.
"Ok, Jarvis. You're up," said Samuel.
"Yes." Jarvis lifted his body, unfastened his pants, and pushed them down his legs.
Georgianna's words echoed for Samuel. "Take what you want and give as you see fit." Samuel massaged Jarvis's thigh, and Georgianna's skin erupted in goose bumps. The bobbing erection was between them. As they each moved their hands up his thighs, their heads lowered closer to his lap. Samuel was going after this man's cock, and Georgianna was ablaze. Arousal. Desire. Passion. Her husband had touched her heart and her pussy at the same time.
When Samuel stuck his tongue out and paused, Georgianna put her hand around Jarvis's cock and stroked once up and down.
"That's the touch," said Jarvis.
Locking eyes with Samuel, she waited. Samuel bent closer to the head of the cock and Georgianna leaned forward. Her husband was doing what she had written, and it consumed her in heat and wetness.
When Samuel's tongue touched the cock, she surged forward to join him. Their warm tongues met together on the hard cock. She was lost in the excitement tongue and tip with Samuel while Jarvis had thrown his head back and closed his eyes, moaning.
"This feels incredible. Two tongues, yes."
"And one mouth," said Samuel as he sucked the tip in and went down on Jarvis.
"AAahhh, so good."
While Samuel's mouth went up and down exploring, Georgianna squeezed her legs together and pulsed to put pressure on her clit. The men's groans filled the air and Georgianna's her heart pounded. The heavy breathing mingled with wet slurping took her to new heights. When Samuel's thick lips suctioned perfectly around Jarvis's penis, she had to speak.
"Take him all the way down your throat, Samuel. Let him fuck your mouth."
Jarvis reached out for both of their heads; he guided Samuel. Georgianna knew when Samuel hit the right stride because Jarvis threaded his fingers in her hair and yanked in rhythm.
"I'm coming." Jarvis held Samuel's head down as Samuel worked to swallow. When the jerky contractions stopped, Samuel stared at Georgianna. She threw her arm around his shoulder and kissed him passionately which caused them to topple onto Jarvis's abdomen. Jarvis stroked their heads as they kissed.
"I have to say I like the real life version of this story," said Jarvis.
Looking at Samuel, Georgianna mouthed, "Thank you."
"Jarvis, thanks for being a willing playmate."
"Believe me; it was my pleasure."
"Do you want to do that last part today?"
"What last part," asked Georgianna? She moved a lock of hair behind Samuel's ear
"You aren't the only creative one in the group, Georgianna. I'm a porn director."
Georgianna's face lost color. Samuel knew those words took her to a bad the memory that still lurked in her mind. No one liked being videoed without consent.
"No, no babe, there was no video. Jarvis just helped me consider the next part of this story."
"What next part?"
"He helped me create a little fantasy for you. It includes two men ravishing your body, but only if you want us to. We would take directions or be your slaves."
Continue Reading The Business of Pleasure ~4~
Writing for
Masturbation Monday and Wicked Wednesday