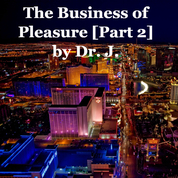 Click
HERE
to read the Business of Pleasure 1.
Samuel Mason left the bar and went to his hotel suite. After ten minutes of pacing, he heard the metal door click, and his wife's concerned voice filled the room.
"Samuel, you didn't wait for me?" She crossed the room and stood at his side.
"No, I didn't."
Samuel Mason had just watched his wife, Georgianna, get finger fucked downstairs in the hotel bar.
"Are you okay? Please tell me you are alright with what happened." He stared out the window into the city lights.
"It was hotter than I expected." The glass reflected the intensity on his face. "You seduced me and fucked me, at the same time."
The man had fingered Georgianna to orgasm because Samuel told her that's what he wanted. It had taken days to convince her.
"Were you comparing him to me?" His jaw muscle bulged from gritting his teeth.
"What?"
She took his hand. "Come on let's sit down." She pulled him onto the couch, and the two of them nestled there.
"I didn't think of it that way, Samuel. I thought of him as a character in my book and we acted out a scene. I focused on providing what you wanted. Did I manage that?"
"You did." He stroked her leg. "It was thrilling to me. I hope you liked it."
"I enjoyed you. Feeling connected to your desire across the bar was everything."
"He seemed tuned to your desire. Your sex flushed skin glowed…" She looked up suspiciously, waiting for him to finish his thought. "Did his touch motivate you?"
"His touch was secondary. It was the interactional part with you that stood out. I realized I wanted you closer to the physical action."
"That's why you gave him the room key?"
"Yes, I told him to come up in an hour."
"What now?"
"He's game. What would you like to do, Samuel?"
They cuddled on the couch. Samuel fiddled with her fingers while he thought. Would he tell her? Last week, she had caught him reading a scene from her manuscript. That's probably how today's idea hatched. He wondered if she knew what he wanted.
Samuel drew Georgianna into a hug, feeling warmth and love from her. They sat connected for a while; he wasn't sure how long. If he couldn't tell her, who could he tell?
He whispered, "I want to suck his cock with you."
Georgianna twisted her head so she could see him clearly. He knew she wasn't judging him, but what were her thoughts?
"I've always wanted to act out the fantasies I write; I didn't know if you would be interested."
Had she read his mind? Samuel sat up and gazed at her. His heart pumped faster. He looked at his watch.
"Tell me what you like about giving head while you do me." Georgianna looked down at his obvious erection. "He'll be here soon. Show me."
"Talking about it got you ready, huh?"
Samuel arched an eyebrow at her, and she chuckled. He pressed into her and gave her a passionate kiss.
"Keep humoring me."
"Okay. I like the control." She reached over and unzipped his pants. "I feel like a temptress, taking what I want and giving it to you as I see fit."
Samuel wasted no time. He stood and unfastened his pants and dropped them to the floor. His cock jutted out in front of her face.
"What makes it inviting to you?" he asked. Georgianna cupped his balls as she licked his tender skin.
"Men's bodies are a contradiction. You are soft and tender below the part where you are rock hard." She stroked his erection with one hand and held his balls with the other while she sucked on his the sac. His temples pounded with blood flow. "You smell like a man dipped in a sexual elixir. It's what stirs me to taste." She held his penis in one hand and dragged her tongue from his balls to his tip. "I wonder if you'd experience a man the same way."
He cradled her face in his hands, "I wonder, too. What's it like, the texture and taste of my cock?"
"Soft, satin-like and the pre-cum is a little salty. The minute my tongue touches it, it's like I'm pulling your essence from you."
Georgiana kissed his fingers and then lowered her mouth onto the head of his erection. She swirled her tongue on the pre-cum, and her action produced more. Her efforts sent Samuel to the edge of no return. She sucked him in further, and he rocked quickly into her mouth. She helped him unleash all his desires, emotional and physical. Samuel shut his eyes and thrust his cock into her mouth. She moaned. He continued driving in-between her lips, over and over, until he exploded.
A hot mouth on his cock was familiar, but he wanted to take one in his mouth.
Georgianna had upped the sexual ante. There was no mistaking her intent when she sent that keycard in the unknown man's direction. She sealed her action when she blew Samuel a kiss.
Those same lips were now sealed on his cock, proving her love to him, giving him what he asked for.
After his orgasm, Georgianna kissed, licked, and cleaned him up.
"You two are something. Am I going to get this kind of action?"
The voice surprised Samuel, and he opened his eyes. There was the man from the bar, grinning. He looked to Georgianna, whose smile reassured.
"Samuel, may I introduce Jarvis Styles. Jarvis, this is my husband, Samuel Mason."
Continue Reading The Business of Pleasure ~3~
Writing for
MASTURBATION MONDAY
Enjoy all the naughty stories there.
Writing to PROMOTE for
WICKED WEDNESDAY.