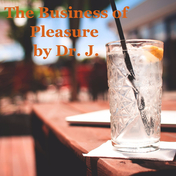 Today's fantasy wore a form-fitting, red cocktail dress. Jarvis Stiles loved a woman who could wear a bold color. The short length highlighted shapely legs with black, delicate heels and the scalloped neckline accentuated her full, beautiful breasts. This sighting was why he liked holidays in a big city hotel; people were festive and dressy.
From where he read his newspaper, she glided back and forth across the lobby to the beat of the piano music and then stopped. She looked around and waited.
After a while, she entered the bar. She embodied grace and elegance. Perched on a barstool, she drank a light orange drink, alone. Jarvis rose from his chair, walked over and sat on the stool beside her.
"What a color. What's that you're drinking?"
"A peach Bellini."
"Interesting choice."
"A nod to Hemingway," she said, smiling.
"Oh, a writer."
"Yes, I am." Her luscious lips shimmered with the residue of the drink.
"So, authors are enthralled with Hemingway."
"Hmmm."
"Are you here for writing business or pleasure?"
Her soft chuckle was alluring. "How about the business of pleasure?" She swirled her finger around the rim of the glass and then licked it. "You?"
Jarvis imagined how that finger would taste, sucking it into his mouth.
"Business. I unwind after a long day of meetings by people-watching."
"You were looking at me?"
"I was. You are fascinating and stunning."
"Why thank you. Perhaps, given your interest, you might help me with a little writing project."
"But I'm not a writer."
Her eyes pleaded with him to play. "Tell me what you thought when you saw me."
"That's easy. First, who would keep a beautiful, sexy woman like you waiting? Second, who was the lucky bloke meeting you?"
"Oh, my, you have been watching."
"Yes, and since, no one met you, here I am." Her light eyes danced with glee.
"So, here we are, strangers, in a bar. If this were a sexual scene, how would it play out?"
He smirked. "It would be easier to show you."
"Are you sure, you're not a writer?" She squinted at him in a playful manner and said, "Please, show me."
Jarvis put his arm around the back of her chair and leaned in nuzzling her short hair. A light citrus and floral mix tickled his nose.
"My touch is known to make women squirm." He kissed her behind her ear and lingered dabbing his tongue tasting. "Then goose bumps would follow. How am I doing?"
She picked up her drink and sipped slowly. "Very well, my body response confirms your reputation."
"Next, my fingertips would play here." He traced her soft skin at the scalloped curves of the dress hem. "It would make you wonder how my touch would feel in other places." Her heart rate picked up, and her skin flushed.
"What other places?" The breathy quality of her question inspired him.
He moved his stool closer and placed his lips on her ear. "That warm and sopping, wet place, between your legs."
She turned, attempting to read him while she inhaled his masculine confidence. "Can I receive that touch here at the bar?"
"You could; people would notice." His captivating words combined with his efforts on her skin tempted her.
"What if I wanted them to see?" She licked her lips, swallowed, and inhaled a steady, deep breath.
"Then, it would start like this." He placed his hand on her shoulder and rubbed his thumb back and forth on her collar bone. She shivered, tilted her head, and offered her neck. He kissed her lightly on her jaw. Pressing his body into the side of hers, he kissed her again behind her ear as his hand crept under her dress edging closer to her wetness. Any keen observer would know what he was doing.
"Did we get his attention?" She nodded to the man sitting at the circular bar across from them. Jarvis glanced that way.
"His and mine, yes, but I'm much more interested in how well I got your attention." As if it were show and tell, she spread her legs apart. He stroked her satin panties appreciating the wetness and caressed her swollen bud. She whimpered.
"Shall I continue showing?"
"Oh, yes." She picked up her glass nonchalantly and took another taste. As she drank in the liquid courage, he pressed his finger firmly up and down her center. She wiggled in her chair trying to get closer. He pushed under the edge of her panties and made skin to skin contact.
"Keep going. Finger fuck me, right now." This fantasy woman's whispered words fueled his fire.
"You are as bold as your dress suggests. With pleasure."
He inserted his two fingers inside her hot, wet space, and she hummed. He slid his fingers in and out knowing she worked to keep her passion in check since she was in public. When she cooed, he used his thumb on her clit. Her contractions on his fingers started when the man across the bar leaned forward to catch every nuance. She came hard and muffled her sounds while she kept her eyes locked on the man across the way. Jarvis looked over and saw the heated expression on his face. There was power in knowing another man desired what he had.
"He knows you responded to me and he's turned on."
"I believe he is."
"Me, too."
Jarvis removed his hand from under her dress and propped his elbow on the bar in front of her. Remaining close, he rubbed his thumb and two fingers together as he meditated on the essence there. She picked up his hand and kissed the fingers that had been inside of her. Her tongue's light licking buckled his knees.
"Thank you for helping me with my business and pleasure tonight."
"I'm not sure what I did besides the pleasuring part, but you are welcome."
She smiled at him.
"You helped me create the beginning of my next erotic story."
"I did?"
"By any chance, would you like to see how the story unfolds?" He had never received an invitation as enticing as this woman was offering.
"Yes. But tell me, I must know, is this how you do all your writing research?"
"No, not usually. My husband put this fantasy on his Fucket List, and I agreed to entertain the idea." She looked over and grinned at the man across the bar. "Judging from his response, he got more than he bargained for."
"That man is your husband?"
"He is. He wasn't sure I would act out this fantasy, so he won't be expecting me to do this." She pulled a key card from her bra and laid it on the bar and then blew a kiss to her husband. "Would you like to join us in an hour?"
Jarvis turned toward her husband to see his reaction. Desire rolled off of him like waves in a tsunami.
Yes, I do believe I would like to see how this story ends.
Jarvis took the keycard without hesitation. He stood tall, took her small hand in his and kissed it. "Not an invitation I can refuse. I think you're helping me create my Fucket List."
Read The Business of Pleasure ~2~
Writing for
MASTURBATION MONDAY.
Click to read other Monday Fantasies.
Writing for
WICKED WEDNESDAY
. Click for other exciting wickedness.