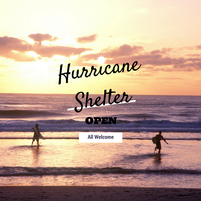 "Anybody claimed this cot?" A sweet, shaky voice directed my attention away from my iPad. I had been watching an action movie to help forget my break up troubles.
"No. It's yours." A college girl sat her backpack beside the cot and sat facing me. Her shorts peeked out the bottom of her rain jacket that coordinated with her Keen sandals. When she pulled the hood off, I glimpsed a scared and beautiful face.
Well, hello. She could be a distraction.
"How long have you been here?" she asked. I sat up and met her frightened eyes.
"I got here early, about six hours ago. Let the evacuation countdown begin."
"Have you ever stayed in a hurricane shelter before?"
"Yeah, it's livelier to stay here and be with the cool people than alone in my apartment. I'm a local bartender, so I know a lot of folks." I hoped my banter helped settle her fear. "What about you?"
"No, never a shelter much less a hurricane. I was passing through seeing the sites when the storm approached. I figured this was my best bet since I don't know anyone in the area."
"You've never been in a hurricane before?"
"No, I'm from Kansas. I've experienced lots of tornados."
"Probably similar except we get storm surge. That part can be nerve wracking. You here alone?"
"Uh huh, I'm headed to an internship in North Carolina."
"Cool. Have you been on our barrier island before?"
"No, I must admit, I feel a little anxious. The shelter workers said I got the last spot. We are closed in."
"Alright, they do a good job here. Want to get some food and then get settled in?"
"That sounds nice."
"My name is Charlie."
"Thanks, Charlie. I'm Laurie."
Laurie shrugged off her coat after I suggested a tour of the facility and some food. I enjoyed the woman under the jacket, all curves, and legs. Delivering my favorite one-liners from the bar, I got her laughing. My youngest child personality seemed to be winning her over. We chatted about island life and college opportunities. It surprised me that we had so much in common. After eating, we played a rousing game of bingo with some of the island old-timers. They flirted with Laurie, and I enjoyed her reaction to them, a lovely blushing pink tone.
When the game folded, we went back to the sleeping area. The stale air and body sweat permeated the gym. The storm was going in full force, and the wailing wind produced eerie sounds. We sat on our designated cots arranging our belongings.
"Charlie, I'm sensitive to loud noises. I have a favor to ask."
"Shoot."
"If I get scared would you be amenable to me bunking with you?"
"No problem. Climb on in."
Yes, hot woman, hop in my bed.
With our blankets and pillows, we got situated on our cots. Knowing that a desirable, interesting woman was horizontal next to me drove me insane. After reading a novel in an attempt to put Laurie out of my mind, I managed to fall asleep. A loud crash woke me and then a wobbly, warm body slid in behind me. I pulled the light blanket over us. "It's okay. We are safe here."
"Thanks, Charlie."
When another wind gust picked up, Laurie spooned so close to me that I felt her heart through my back. She put one arm around my waist under my tee-shirt, and I patted my hand on hers.
Be a gentleman, Charlie.
She wiggled, squeaking the cot, and it felt like I was a pair of jeans she was trying to fit in to. My penis started a dance in my gym shorts. The more the wind gusts and banging shook us, the tighter she held me. I sucked in a deep breath when she dropped her hand on my hip and brushed my erection.
As the storm intensification was heightening, Laurie took comfort in my body. I floated like I was in a dream. She tightened her grip on my hip and moved her mouth near my ear.
"Charlie, is it okay if I hold your cock?"
Hold on to anything you want; I have gone to heaven.
"Do what you need to do."
Her warm hand dipped past the waistband of my shorts and made direct contact with my erection. We were in the corner of the middle school gymnasium, covered up by a flimsy blanket. Even with people all around us, I was in a sexual trance as she held and then rubbed my cock. Tentative, she was not. As her calming mechanism worked for her, my pleasure sensation surged out of control. I considered that the entire room, families with children, would hear me, so I shifted to my back to gain access to her mouth. She molded her body to my movements.
"Thank you, Charlie," she whispered in my ear.
"I think I should be thanking you, Laurie." My hand wound around her hair, and I pulled her mouth to mine when she started stroking me in earnest. I captured her mouth and indulged in the sweetest tongue ever. It was as if the fury of the storm lived between us and our tongues told the story. I moaned and deposited all my sounds in her mouth. I was pretty sure no one could hear us because the storm had gotten deafening.
I wondered if this was how primitive tribes had had sex, with family members all around them or Native American Indians in a teepee or even camping with a group in a tent. As she touched me, those thoughts vanished. Frankly, I didn't care who knew; her efforts were phenomenal.
I was as attached to her mouth and tongue as she was to my cock, and I slipped one hand over her breast. She groaned, and I felt a hard nipple under my fingertips.
"Charlie, pretend I'm fucking you."
Those words put me over the edge. As I was about to cum, I sealed our mouths with a kiss to keep my moan contained. Never had I imagined that I would be jerked off in the middle of a hurricane surrounded by evacuees. I hoped that my spasmodic body remained hidden from the room's view while under the blanket. My Bob Marley tee-shirt soaked up my plentiful spurts. After I had shot my load, I held Laurie close, thinking about her last words.
We fell asleep, and when we awoke, to our surprise, the worse was over.
"Thank you, Charlie, for helping me with my storm anxiety."
"No problem, Laurie. It won't be long until we are out today, maybe you could come with me and check out how my apartment fared."
"I do have a couple more days scheduled for the island. That sounds like a fun idea."
"Great. My cock and I would like the opportunity to thank you for sharing your excellent calming techniques with me."
Laurie laughed. "I should be embarrassed, but I'm not. I had fun, Charlie."
"You can be my shelter bunk mate anytime."
Prepared to leave, we gathered out belongings and stood in line to exit. One of the bingo players, Dan, came up behind us. He slapped me on my back and leaned toward my ear opposite of Laurie.
"Charlie, I want you to make sure you show Laurie a good time before she leaves the island."
"I will Dan, I promise."
"Ah to be young again. I hope you can satisfy Laurie as well as she satisfied you."
"What?"
"Did you think in a room full of people, we wouldn't know what you all were up, too?" He elbowed me in my side. "Do an old guy a favor. Make sure she gets as good as she gave."
Writing for
Masturbation Monday. Check out other sexy stories there! Writing for Wicked Wednesday. Go there to see what other wickedness occurred.